Doctor
Dr. Matthew Stanizzi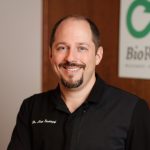 BioRestore's medical director, Dr. Stanizzi, is a Board-Certified Urologist whose work and research in urology are highly regarded in New England. He has been published in numerous medical journals.

Dr. Stanizzi graduated from Brandeis University with dual majors in Neuroscience and Biology before continuing to his medical degree from Mount Sinai School of Medicine in New York City.

Dr. Stanizzi continued his training at the Mount Sinai Hospital where he completed his internship in Surgery and His Residency and Chief Residency in Urology.

He has worked as a Clinical Urologist in the Southern New Hampshire are for over a dozen years, providing Urologic Services to multiple area health systems including Southern New Hampshire Medical Center, St. Joseph's Hospital and Parkland Medical Center.

Dr. Stanizzi serves as the laser Safety Officer at Southern New Hampshire Medical Center and was the Chairman of the Department of Surgery for several years.

For the past two years Dr. Stanizzi has served as the Medical Director for BioRestore Health. Recently opening BioRestore's second location in Nashua, New Hampshire.

Dr. Stanizzi's new focus is on restorative, integrative, and anti-aging medicine while still offering limited urologic services. He is committed to quality care for each and every one of his patients.